A cozy backyard living space isn't complete without an outdoor fireplace to set the mood. With so many options to choose from, picking the perfect fireplace to fit your style can be a hard choice to make.
We're here to make your choice a little bit easier by showcasing some of the top outdoor fireplace design trends for 2023 to make your backyard the coziest space ever.
Wood Fireplaces
Wood Fireplaces are a great option to add a rustic, farmhouse look to your outdoor space. They give a natural look to complement any farm-style outdoor living space. Wood fireplaces don't have to be completely made from wood, but use wood as accents along the fireplace front as well.
Stone Fireplaces
Stone fireplaces are a classic in an outdoor living space. They fit a wide variety of styles, and can be customized to fit any space with so many options for different stones you can use.
Brick and Mixed Brick Fireplaces
Brick fireplaces are another classic fireplace option. They can be traditional with red bricks, modernized with painted bricks, or even give off a whimsy look with mixed bricks.
Frameless Fireplaces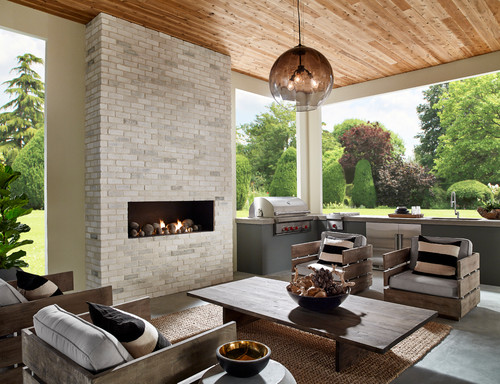 If you're going for a super modern, timeless look, a frameless fireplace is the way to go. These fireplaces add the perfect touch of luxury and are sure to catch the eye of your guests.
Standalone Fireplaces
If you don't want your fireplace on your patio, you may want to consider a standalone or freestanding fireplace.
Double-sided Fireplaces
Double-sided fireplaces are perfect for a large seating area or as a divider for two outdoor living spaces. They're great for providing light and warmth to two areas of your outdoor space at once.
Grand Fireplaces
If you have a grand fireplace inside, there's no reason you can't also have one outside. Grand fireplaces are a great way to elevate an outdoor living area.
Painted Fireplaces
Have a specific color scheme in mind for your backyard? You can still have a fireplace that fits the look. Painted fireplaces are perfect for continuing a color theme in your space while also adding a warm and cozy feature to your backyard.
Contemporary Fireplaces
If you love a more contemporary style, there are tons of great fireplace options that fit that aesthetic. Contemporary fireplaces are a great way to incorporate a sleek, modern look into your yard.
Traditional Fireplaces
Traditional fireplaces offer a timeless look to your yard and have a great ROI since they never go out of style. The best part is they come in many shapes, colors, and sizes, so there is something to fit every need.
Want to add a fireplace to your yard? Contact us and get a quote.
Our team at Mike's Evergreen are experts in outdoor living spaces and outdoor fireplaces. We can help you find the perfect fireplace to fit your outdoor living style. Contact us to get a quote or for any other questions you have.